Avenue One is new mid-rise residential condominium development that is located on the 1,000 to 2,100 block of Scholarship road by Jamboree Drive and Dupont Drive. It is in the heart of commerce and entertainment in Irvine, CA. This one of a kind condominium development consists of 3 - 4 story tall buildings and was developed by the prolific builder K Hovnanian Homes, and is one of the more affordable newer high rise condominium developments to date.
Prices range from the mid to upper $300K's for the 1 bedroom, 1 bath floor plan, up to the lower to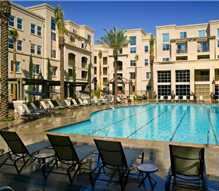 mid $700K's for the largest 3 bedroom, 2 bath, 1,538 square foot model. Avenue One offers many fine amenities such as; large swimming pool, heated spa, Tot Lot, sun deck, fitness center, lounge with Plasma TV, barbecue area, pool tables, indoor basketball court, conference room, catering sized kitchen, executive business center, Clubhouse and more.
This fine development consists of 404 condominium units incorporating 14 unique and elegantly appointed floor plans. The floor plans that are currently available for sale are listed below:
Residence One B: 1 bedroom, 1 bath, 602 SqFt
Residence One A-LC: 1 bedroom, 1 bath, 846 SqFt
Residence One C-CL: 1 bedroom, 1 bath, 923 SqFt
Residence Two A-LC: 2 bedroom, 2 bath, 1,213 SqFt
Residence Three A-LC: 3 bedroom, 2 bath, 1,525 SqFt
We are dedicated Buyers Agents and our Services are Free to You! Since you found us on the Internet, we are offering a 1% rebate from the sales price if we show you the Avenue One condos and allow us to represent you in the purchase.