Lake Forest mixes new and fairly new housing with its older neighborhoods to produce a handsome city shaded by and graced with tall eucalyptus trees. Lake Forest used to be known as El Toro, and is located between Irvine and Mission Viejo and next to the former Marine Air Station. The city extends from Highway 5 to Highway 241 (a toll road) and has a population of 78,020.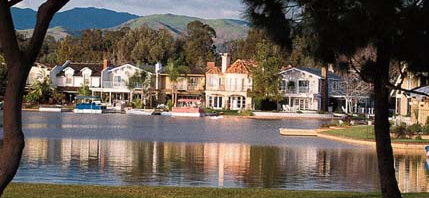 In 2000, Lake Forest annexed the new neighborhoods of Portola Hills and Foothill Ranch and increased its size by 2,700 acres and its housing stock by 6,100 units, the great majority of which are single family detached and attached condos. Lake Forest is encouraging these neighborhoods to keep their identities and zip codes. For this reason, you will read about homes for sale in Portola Hills and Foothill Ranch, or what's happening in these communities, but they are now part of Lake Forest. A Library opened in Foothill Ranch in 2003, and includes community room and computer stations. Portola Hills, after waiting 3 years, got a park in 2002.
The crime rate in Lake Forest is some of the lowest in country with Zero homicides in 2004, 2003, three in 2002, one in 2001, two in 2000, three in 1,999, one in 1998, zero in 1997 and 1996, two in 1995, zero in 1994 and 1993.Lake Forest has two neighborhoods built around man-made lakes, which explains the name of the town. On older maps Lake Forest may show up as El Toro, and some locals still call the town El Toro. Children attend schools in Saddleback Valley School District, which also educates the annexed neighborhoods and Mission Viejo and Laguna Hills. Local rankings indicate that Lake Forest schools with occasional exceptions, are scoring in the 70th, 80th and 90th percentiles, and several schools have won state honors.
Lake Forest has attracted offices, hotels and high-tech firms, creating local jobs, and annexed a large mall on it's north side. When Lake Forest (El Toro) started its boom, construction proceeded northerly toward the Santa Ana mountains and away from Interstate 5. A fair number of these homes are large ranchers built among extensive eucalyptus groves. Orange County is semi-desert and most communities confine themselves to shrubs and short trees. Lake Forest is the towering exception. As you move north, this mix continues and the homes take on a more contemporary look, tile roofs instead of wood shingle tinted stucco instead of wood siding. Some streets rise into gentle hills that afford views of the countryside and the mountains. For the newest homes, some with sweeping views, drive to Portola Hills and Foothill Ranch. For the offbeat, take a look at the Lakes subdivision between Toledo Way and Jeronimo Road, with Paddleboats and fishing.
In Lake Forest, the under 21 total 315 of all residents, in Foothill Ranch, 33%, and in Portola Hills, 35%. These numbers translate into many activities for kids.
Lake Forest is close to University of California, Irvine and to south county beaches, movies, performing arts center, top restaurants and the Spectrum Center. There are at least 20 parks including regional park and several linear packs.
If you would like more information regarding the City of Lake Forest, or if you are planning to relocate here, please contact us using the form below or by email, and request one of our Free and information packed relocation packages.