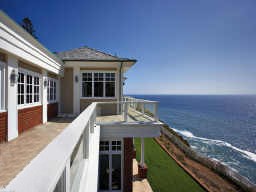 With many locals, Laguna Beach is synonymous with Luxury Real Estate. And given the close proximity to the beach and steep hillside terrain, a Luxury home would not be complete without a majestic panoramic ocean view. There are no hard and fast rules as to the make up of a Luxury home. Herein we define a luxury home to comprise of a minimum of 3 or more bedrooms, more then 1,800 square feet, a panoramic ocean view and priced more then $2 Million dollars.
Unlike master planned cities such as Laguna Niguel, Laguna Beach luxury homes will have a wide variety of architectural styles, looks, sizes and will range in age from 1960's to newly built. The average luxury home will comprise of 3 bedrooms, 3.5 baths, approximately 3,300 square feet of living area and incorporates a majestic ocean view. The average price is about $4 Million and the average price per square foot is around $1,400/SqFt and will range in age from the late 1940's up to modern day construction.
Some of the more prestigiuos residential luxury homes to be sold in Laguna Beach in the past 5 years were as follows:
$12.5 Million - 2665 Victoria Dr., Victoria Beach - 4 bedrooms, 5 bath Ocean View estate with walls of glass.
$13.5 Million - 1991 Ocean Way, Woods Cove Beach - 6 bedrooms, 5.5 bath, 5,398 SqFt estate, with ocean frontage was once owned by Bette Davis.
$13.5 Million - 158 Emerald Bay, Emerald Bay - 5 bedrooms, 5 bath estate with stunnng ocean view.
$14 Million - 80 North La Senda Dr, Three Arch Bay - 4 bedrooms, 4 bath, 1 Acre of Beach front property with sweeping Ocean views.
$17.9 Million - 100 Rockledge - 6 bedrooms, 6 baths, 10,656 SqFt with 1 Acre of prime beach front property offering panoramic ocean views.