Laguna Beach California is arguably the most picturesque city in Orange County to call home. Some consider the beaches here to be some of the most beautiful in America. Located on the coast of the Pacific Ocean, Laguna Beach CA is a mix of old and new homes. This enchanting city has many coves and small bays with some steep cliffs and crashing waves that add to the charm of this city.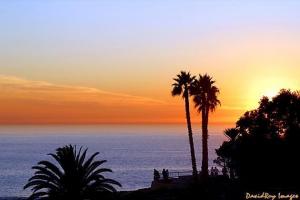 The city slopes slightly in from the beach, and then the town ascends into hills (some slight, some steep) and many areas are divided by deep canyons. Much of the land outside the city has been placed into regional parks for public use for hiking, horse trails, bird watching. Due the city's hilly topography, Laguna Beach remains relatively isolated from the rest of Orange County much to the delight of many locals.
The hilly terrain coupled with stringent building codes makes home construction very challenging. Moving into the hills, appearances take on a more residential appearance with many homes offering a stunning ocean view. The city has laws to protect views.