New Home Buyers are represented to FREE! That's right, NO extra cost to you! If your looking at homes in a new subdivision and there is an "on-site" real estate agent present, they are working for the builder... DO NOT GO ALONE! That Realtor protects the legal rights and interests of the new home builder and developer, and not you. Schedule us to be there so that you're getting all of the "Bells and Whistles" when negotiating a contract.
In addition, most every new home builder today offers a commission which we will share with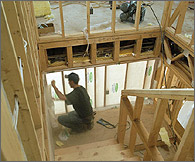 you. Why you may ask...? Well, as it turns out, all builders have there paid staff conduct much of the escrow processing work which us Agents usually do for re-sale homes. Also, since you found us via the Internet, this saves us extra work, time and money, so we thought it is only fair to share the commission with you...! the New Home Buyer! Your commission rebate for a new home purchase will vary from subdivison to subdivison and will also depend on the price of the home.Your rebate could range from $9,000 to $25,000.
One important item... YOU MUST ALLOW US TO ESCORT YOU TO THE NEW HOME SALES OFFICE THE FIRST TIME YOU VISIT. If you go there alone wihtout us, then Builder will not pay a commission and therefore we cannot share the commission with you.
Most of south Orange County is built out and there are only a few cities where new homes are being built. These cities are: San Clemente (Talega), Ladera Ranch (part of Mission Viejo), Irvine and Newport Coast.
In addition to the above new Home Subdivisions, there are also small in-fill lots here and there throughout south Orange County where a custom home builders may be building a new spec home. Also, there are nearly new homes listed for sale as well. We define a nearly new home as one that was built in the past 2 years. Below is a list of all nealry new homes for sale and individual spec built new homes listed for sale.